"Every man and every living creature has a sacred right to the gladness of springtime."
- Leo Tolstoy
,
Resurrection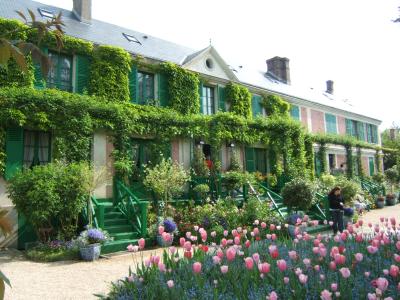 I love the coziness of Christmas and guarantee of too much barbeque on the Fourth of July; but Easter tops my list of favorite holidays. The sunshine and flowers wake me up from a long winter's nap, and get me excited about all things new, fresh, and beautiful. I feel like it's God's way of rejuvenating the human spirit, in honor of the miracle of Easter.
This year, Springtime is particularly special because I'm getting to see the yard of my new home bloom for the first time. The previous owner was amazing and innovative in what she planted. Every day there seems to be a new surprise-- fresh mint and basil sprigs, a yellow bud peeking out of a shrub I thought was evergreen, or (my favorite suprise so far) a
gorgeous
blanket of pink, red, and white flowers on what I thought was a "dead" tree.
Time to celebrate the season! This is my ode to all that is new and gorgeous this time of year.


Salon.com's "Spring Fever Fiction" List, including:
*This list was published on Salon.com in 2001
In contrast,
Joie de Vivre's
"My Brain Needs a Spring Break Too" Spring Reading List:

Those damask print pillows in juicy colors bring the beige couch to life.


A Kelly Wearstler montage... lots of color in various textures and prints.
Kelly Wearstler Designs
House of Turquoise
Turquoise and white... sublime. With a pop of-- what else? Hot pink tulips, of course!
And last, but certainly not least... Spring Fashion.
Long live the Little White Dress
Handbags...
Hermes Snakeskin
Bucket Bag
;
Fendi Tapestry Peekaboo bag;

Valentino Embroidered Bow Bag.
And some sassy jewels. Fabulous.

Lanvin

Glass Pearl Necklace
Sonia Rykiel Studded resin bracelets.
Bijoux Heart

24-karat gold-plated Tropica necklace