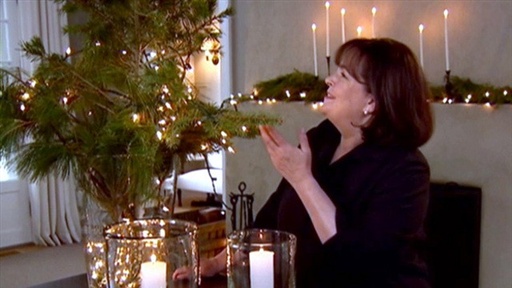 Ah, the
Barefoot Contessa
. I have already
professed my love
for you, stemming from one of my best friend's love for you. Admittedly, my dear N is still much more on the road to becoming the next BC than I am, but that doesn't make my admiration and desire to, well...
be
you... any less.
And all that really needs to be said as to why this particular episode grabbed my attention is the menu:
It's festive fun with the Barefoot Contessa who is throwing a dazzling holiday dinner party for friends. A luxurious
Seafood Gratin
of lobster, halibut and plump pink shrimp in a golden saffron sauce is served. To follow, there's a creamy
Pumpkin Mousse
then spicy
Mulled Wine
and festive s'mores
stuffed with
French Chocolate Bark
round a burning brazier in the garden.
I have a particular affinity for mulled wine, as I first tried it on a cold, cozy night in Scotland while living there for a year. The house smelled like cinnamon and the wine was warm and oh so yummy.
As a little (ahem, HUGE) sidenote: When I sent a text to N telling her how fabulous the holiday BC episode was...
THIS
is what she sent me back.
That would be N, talking to the Barefoot Contessa!
I wasn't there, but apparently this was the exchange:
N: "Basically, Barefoot Contessa... I love you."
Barefoot Contessa: "I hope you like the new book."
I love you too, BC!!!!